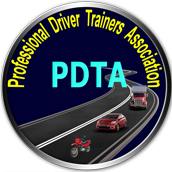 Dr Bridie
is an internationally recognised expert in psychology of young people's driving behaviour, and

Natalie
is a PhD Candidate at the Adolescent Risk Reasearch Unit,
University of Sunshine Coast, where she is actively involved in the research of

Road safety and learner drivers.
Adolescent learning.
Driver training.
Adolescent risk-taking.
The morning session involved Natalie presenting some of her research findings regarding Queensland learner drivers, including how they perceive what is being taught by professional instructors and their driving behaviours and safety attitudes. This was an interactive session with Natalie as she encouraged open discussion to share the experiences and knowledge from experts in the driver training field. This invaluable expertise cannot be found elsewhere, and she looks forward to meeting again in the enar future.

The afternoon session was targeted toward members of the public. Dr Bridie shared a lively discussion on ways which training drivers, (parents and Instructors), can be more a positive influence on adolescent learning drivers. Research into youth development, and social issues relating to young people learning to drive were discussed.

Thankyou to both Natalie and Dr Bridie for your time and effort in sharing your knowledge with those who attended.



On October 8th 2017
Dr Bridie Scott-Parker, and Natalie Watson-Brown,
held a Road Safety Seminar for us.